The number of cannabis users in this world today is very, very high. But how do most people use cannabis? By popularity, I would have to say by smoking it. Second place would most likely go to eating it. But besides that, cannabis users consume it to either get high or receive some medical benefit(s) from it. They don't use cannabis as apparel to express their love for it. Or do they? Ever heard of cannabis jewelry?
Yes, some cannabis users do express their love for the plant by wearing clothing or clothing accessories that represent cannabis. And for those of you who do that, then great! We have something just for you!
Cannabis Jewelry
The love for cannabis can be expressed within clothing designs in several clothing items. It can be on a shirt. It can be on a hoodie. It can even be on some underwear. The list goes on and on. But did you know that you can also get cannabis designs in jewelry as well? It's true, you can get necklaces, earrings, bracelets, and more with weed-related designs on them.
Some people want to wear some sort of cannabis clothing but do not want to wear too much. This could mean that they do not want a shirt that is covered in cannabis leaves, as this could be too much expression. However, a small piece of jewelry may be able to get the job done!

Description
Genifer M is a jewelry company that offers these cannabis-related designs on, guess what, jewelry. If you enjoy wearing jewelry, and you are a cannabis lover, then you should check out their selection.
Along with selling cannabis-designed jewelry, they believe in spreading the word about cannabis and opening the discussion about it in today's society. Before Genifer M, most marijuana jewelry was fake and inexpensive. Now, this jewelry company has allowed cannabis lovers to purchase cannabis designs on fine, high-quality jewelry.
Before we jump into the review, first let's take a look at some of the products that they have to offer. They have many different types of products in each category below, however, I chose my favorite one to keep it short (and also to give my honest review).
Necklaces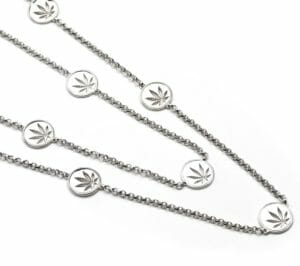 I liked the design of this one. It offers something a little more unique, instead of only having one marijuana leaf at the end. The name of this piece is "Weed By The Yard" and can be found on the Genifer M website. Now, the price was a bit high (which we'll talk about later), however, it is sterling silver and may be worth the purchase.
Bracelets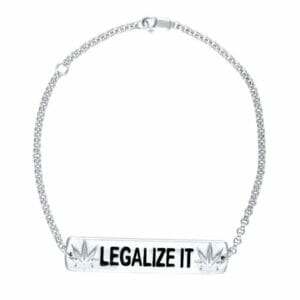 On the website, they seem to have more bracelets than necklaces or earrings. So, this one was sort of a hard choice, but I chose it because it spreads a great message: that cannabis should be legal! If you love cannabis then come on, you have to agree with this one. Guess the name of this bracelet. They also have leather and bead bracelets, but that is not my style, which is why I didn't show them (this is my review after all).
Earrings
These gold earrings caught my attention. They are simple, yet fine jewelry. Now, there are more fancy earrings, that cost much more, but I could settle with these. Simple, stylish, and cannabis. That's what these earrings stand for in my opinion. They are also 14kt yellow gold, so there's that. Oh, and how could I forget, they are sativa leaves (in case you couldn't tell)!
Genifer M also offers a few other product types, including pins, pendants, and gemstones. Check those out by clicking the link at the bottom of this post.
Review
So, let's finally get into the review of these cannabis-designed jewelry collections. But first off, what did you think? Drop a comment down below with your thoughts on the Genifer M products.
Honestly, I find these Genifer M products very classy and old-fashioned, which is great for those who are looking for that type of jewelry. However, the common cannabis lover may not be able to afford (or want to afford) the very fancy stuff. Luckily, Genifer M offers a list of their jewelry that is under $100. If that sounds suitable for you, then it's all good.
Some of the collections on their website state that they are for men or women, while some do not specify a gender. In my opinion, all of this jewelry can be used by either men or women (especially the bracelets). There is something for any cannabis lover on this site (unless you do not like jewelry whatsoever). Thanks for reading!