So it's the spooky time of the year again when hundreds of ghosts will wander the streets, but not a single soul will be afraid of them. So yes, it's Halloween, and we all know what to give the children on this occasion.
Halloween is not just limited to candy bars and taffies we generally gift to the kids. This is the perfect occasion to give your loved ones ghastly gifts and prettifying presents, especially if your friends and family are obsessed with the spooky holiday. But we all know someone with more than one obsession, and if the person is a stoner, we know what their first obsession would be.
This Halloween, try skipping the obvious gifts like simple lighters, rollers, crushers, etc., as no one wants an ordinary present on a special occasion. Hence, let's discuss some excruciating gift ideas which could make a great present for your stoner friend or family member.
Canna Style Halloween Pumpkin Cones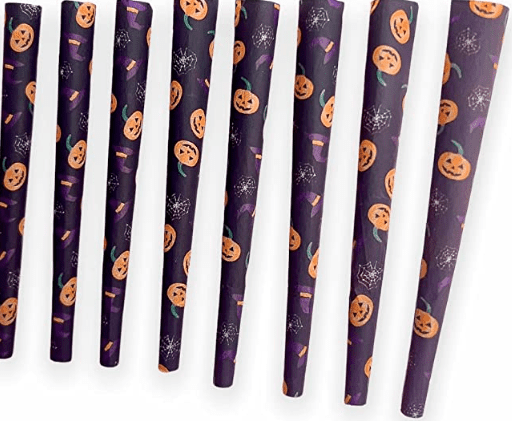 A perfect gift for stoners who have a hard time rolling their joints and always rely on fellow stoners to roll them out. Additionally, these cones come with cute little jack-o-lanterns drawn all over them, providing a perfect look and feel for Halloween.
You are just required to fill these spooky cones with your favorite stuff, give a twist to the end and boom; you have a perfectly rolled joint to celebrate the night of Halloween. Each pack comes with 8 cones that have purple witch hats, spiderwebs, and jack-o-lanterns imprinted all over the cone.
All the cones have a built-in filter. Hence you can be sure that you are not inhaling any toxic smoke. These cones are designed exclusively for Canna Style.
Cannabis Leaves Marijuana Weed Pot Head Skull Figurine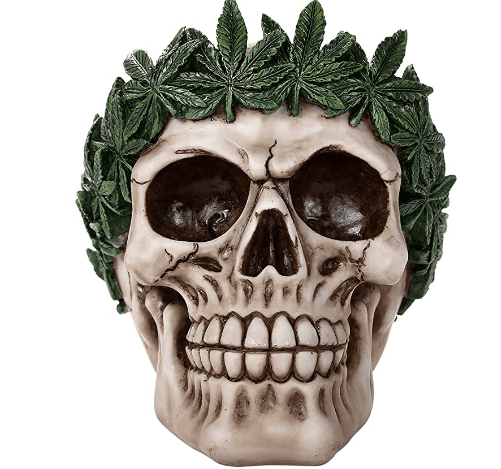 A spooky skull figure decorated with a crown of cannabis leaves could be the perfect gift for a stoner who loves to collect weed decors. This skull is not just weed decor; it can also be used as a decoration for Halloween, and the cannabis crown will indicate that the owner is a stoner.
Made of high-quality composite designer resin, these decors come with a strong build and are exclusively painted with hand.
Any weed junkie would love to have this skull in their home as a collectible. Full attention has been paid to the detailing, ensuring not to leave any imperfections behind— a great gift for a loved one on the spooky occasion of Halloween.
Funny Halloween Weed 420 Ceramic Coffee Mug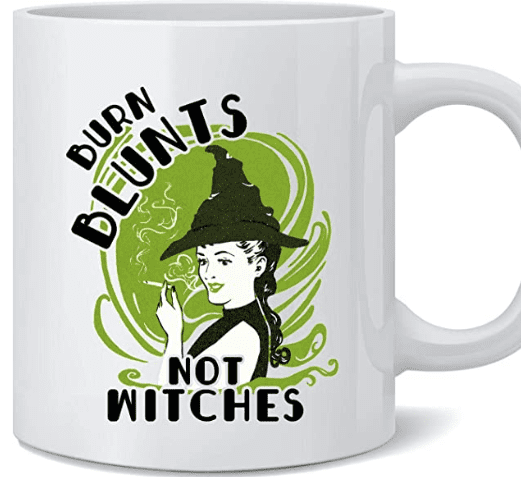 This is not just any ordinary coffee mug. If it had been gifted to Salem back in the day, thousands of women who lost their lives just because few people believed they were witches would have been spared their lives. Instead, a piece-making cup, made up of ceramic, is simultaneously strong but comfortable in the hands.
As this cup includes witches, a spooky look is provided to it, making it perfect to be gifted on Halloween. This witty cup can hold liquid up to 11 ounces and easily be cleaned in your dishwasher. Although this gift is perfect for any stoner, if your stoner friend also practices witchcraft, there is a better gift I could think of.
Pot Leaf Round Lens Sunglasses
A perfect accessory for any stoner dressing up in a weed-inspired costume this Halloween. Crazy, funky weed-themed sunglasses serve not just as a Halloween wearable, but a stoner can even wear them to a weed party planned afterward.
These glasses are sturdy and durable and are also very light in weight. Hence even your nose does feel a lot of burden when you wear them.
Wear these glasses to your Halloween party and become the party's focal point. We bet you once you visit that party, everyone present there would plead with you to let them try those glasses, at least once. But beware: These glasses are too funky to be left unattended and might get stolen if you take them off even once.
Halloween Smoking Weed Shirt
Why does Jack-o-lantern always seem to be smiling? Well, this shirt has solved this age-long mystery; jack-o-lantern is a stoner too. So gift this shirt to your stoner mom, dad, daughter, son, uncle, aunt, niece, nephew, or friends. If they are a stoner and also admirers of spooky stuff, they will fall in love with this shirt at first sight.
This shirt's solid colors are made of 100% cotton, while the heather grey and other heather are made of mixed materials.
These lightweight shirts are perfect for those hot summers or worn under a jacket or sweater. The fit you can expect is classic, not too tight or not too loose.
HUANGSHEN halloween cool Skull Ashtray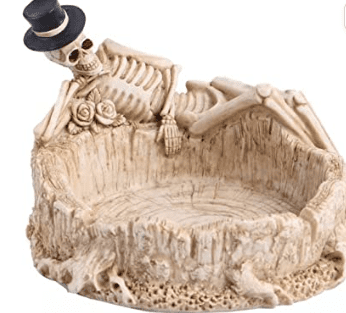 If your stoner friend does own an ashtray, he is probably using disposable glass or his room's floor for that purpose. Can you see a friend in that condition? I think not. A stoner always needs a container where they can shed their joints ash, but traditional ashtrays are way too boring.
Hence, we present to you this spooky skeleton-themed ashtray. A perfect Halloween gift that serves both purposes.
Fill your friend up with the Halloween spirit, and provide him with the convenience of storing the ash. Made up of resin hence you can be assured that the ashtray is not very fragile, and the dull white color and the hat on the head of the skeleton also provide a vintage look to the ashtray.
FAQ: Weed Lovers
Q: What kind of Halloween gift ideas are good for weed lovers?
A: Halloween gifts for weed lovers can include items such as 420-themed t-shirts, pumpkin-shaped rolling papers, cannabis-themed mugs, 420-themed socks, cannabis-infused edibles, and cannabis-scented candles.
Q: Are there any good cannabis-related Halloween costumes?
A: Yes, there are many cannabis-related Halloween costumes available, such as "the joint", "the cannabis chef", "the cannabis farmer", and "the cannabis connoisseur".
Q: Where can I buy Halloween gifts for weed lovers?
A: Halloween gifts for weed lovers can be purchased online from websites such as Etsy, Amazon, and Leafly. Additionally, many local dispensaries and smoke shops may also carry cannabis-related gifts and products.
Conclusion
Despite your thinking, 20th April is not the only day that calls for cannabis-themed presents. If you are anyone in your circle who is a cannabis enthusiast, and you had no idea what to gift them for Halloween, I think now you do.
Heading up to the local gift shop might leave you in even more confusion. Additionally, gifts for stoners that are too Halloween based won't be available in every gift shop. Hence, we made it easy for you to select the best gift for the stoner in your circle. Every gift mentioned in this blog is easily available on Amazon, and you don't have to wander from shop to shop to grab them.