Whether you are just a beginner or a seasoned cannabis cultivator, having a grow tent kit is essential to grow weed indoors. It is the easiest way to begin and continue the cannabis-growing journey.
Grow tent kit enables beginners to skip the research time of putting together various pieces of growing cannabis on their own. From a manageable learning curve to reduced financial obligations, an indoor grow tent kit is the best option for beginners who are all set for their cannabis-growing journey.
For professional cultivators, weed tent kits offer the flexibility to set up and break down various growing rooms without daunting their budget.
Choosing the right weed to grow tent kit is essential for a smooth growing journey. To help you out, we have listed the best grow tent kits of 2022 and how to choose the right one that suits your needs:
Best Beginners Grow Tent Kits – Detailed Reviews
1. Mars Hydro Grow Tent Kit w/ 1,000W LED Grow Light and 2.25'x2.25′ Grow Tent Kit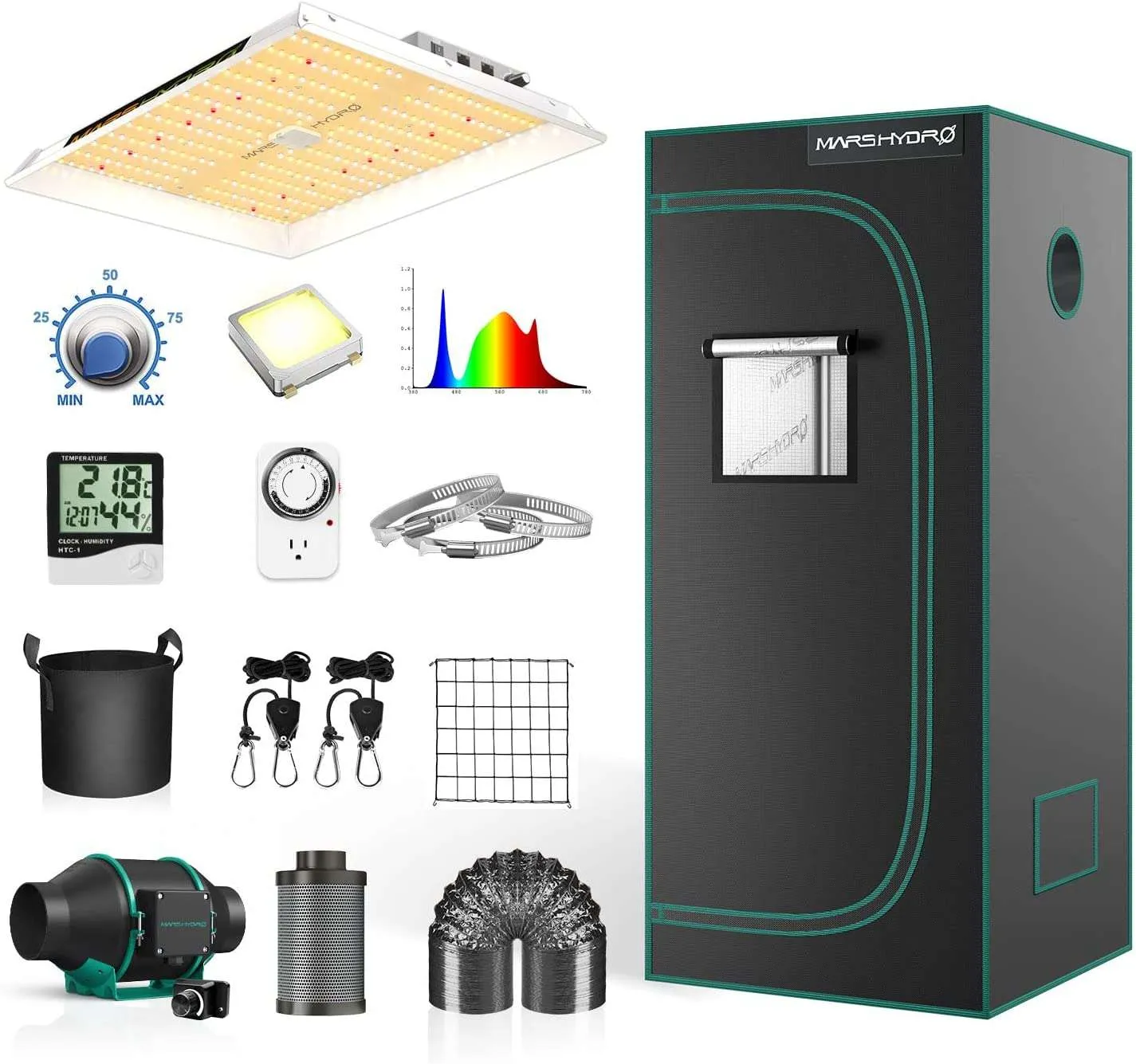 The Mars Hydro Grow Tent Kit is considered the best overall option for a good reason. This kit includes:
Thermometer + hygrometer
4 x 5 –Gallon Grow Bags
4″ Carbon Filter
4″ Inline Fan and Ducting
2.24'x 2.25′ Grow Tent
1,000–watt LEF grow light w/ Adjustable Rope hangers
The high-quality grow tent and 1,000-watt LED are the main features of this Mars Hydro Grow Tent Kit. The 1,000-watt LED is 3′ by 3′ in size, offering plenty of canopy coverage.
The grow Tent is also one of Mars Hydro's most popular versions. Finally, owing to the carbon filter, growers of all skill levels will benefit from the high-powered inline fan and a weed-free-smelling environment.
Your choice of soil or hydro-based media is the only thing missing. In any event, the Mars Hydro Grow Tent Kit is an excellent choice for both beginners and experts.
The ventilation system helps circulate air and keep the temperature and humidity at ideal levels for plant growth. And the water reservoir ensures that your plants always have access to fresh water.
So, whether you're an experienced gardener or a complete novice, the Mars Hydro grow tent kit is a great way to get started with indoor gardening.
Pros:
Kit includes everything a grower needs to develop marijuana in a high-powered grow tent.
A reasonable price
Equipment of the highest caliber
Cons:
5-gallon totes for growers who like 3-gallon bags; this may be too big.
2. Vivosun Grow Tent Complete System w/2'x2′ Grow Tent and VS1000 Led Grow Light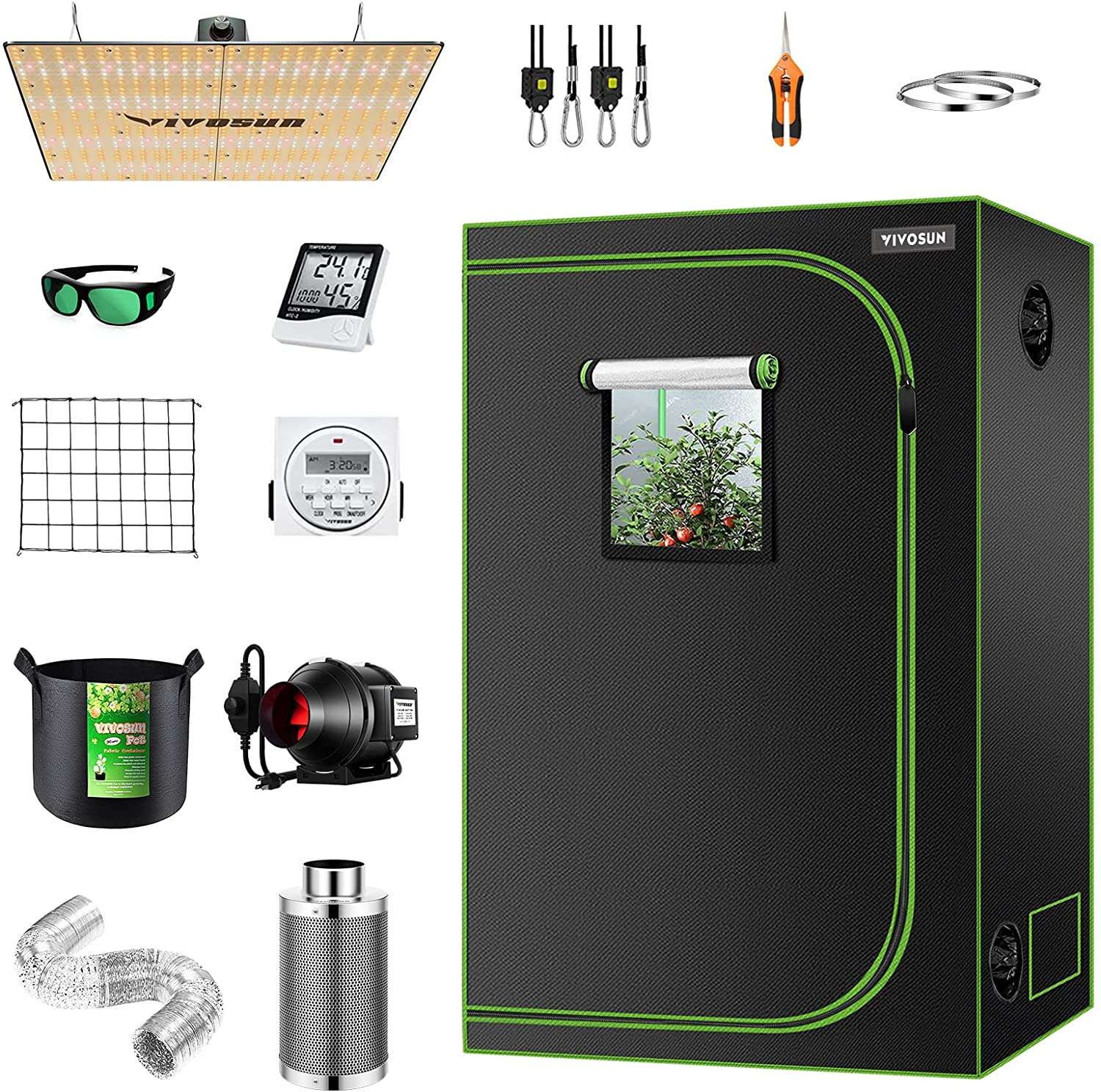 The Vivosun grow tent complete system is an all-in-one solution for anyone looking to start a small indoor grow operation. The system includes a 2'x2′ grow Tent, VS1000 LED grows light, and all the necessary ventilation and computing equipment.
The grow Tent is made of highly reflective Mylar fabric, which helps to maximize light efficiency, and it has a sturdy frame that can support up to 50 pounds of weight. In addition, the VS1000 LED grow light is designed to provide optimum illumination for plants, and it comes with a hanging kit for easy installation.
The included ventilation system ensures that the grow Tent remains at the ideal temperature and humidity levels for plant growth. In addition, the computing equipment allows you to monitor and adjust to the growing environment. With everything you need to get started, the Vivosun grow tent complete system is the perfect choice for anyone serious about cannabis indoor cultivation.
Pros
A high-powered 1,000W LED grow light system pushes the lumens to the limit; useful accessories are useful at all phases of the growing cycle.
Combining an inline fan and a carbon filter significantly eliminates unpleasant odors.
Cons
Expensive (compared to other grow tents on the list)
Minor light escapes through the seams of the grow Tent
3. Spider Farmer Grow Tent Kit Complete
The Spider Farmer Grow Tent Kit w/ SF-2000 LED and 2'x4′ Tent is the perfect way to start growing your own plants. This grow Tent is made with high-quality materials that will provide years of use, and the LED grow light is ideal for starting seedlings or keeping plants healthy during the vegetative stage.
The kit also includes a grow tent cover, which helps to increase humidity and prevent pests from getting inside. The Spider Farmer Grow Tent Kit w/ SF-2000 LED and 2'x4′ Tent is a great investment for cultivators who want the best.
The Spider Farmer Grow Tent Kit includes:
Accessories
Ventilation System
2,000W LED
2'x4′ Grow Tent
In addition, the 2'x4′ grow Tent is sturdy and stylish. It's uncommon to see such a high-quality grow tent, but Spider Farmer nailed it with this outstanding kit.
Pros:
High-powered ventilation system
Ultra-high-quality grow Tent
Unbeatable 2,000W LED with Samsung diodes and Mean Well Driver
Durable and handy accessories
Cons:
Expensive
The ventilation system may employ a 6″ rather than a 4″ pipe.
4. CDMALL ALPHAPAR Grow Tent Room Complete Kit (48 "x24″ x60")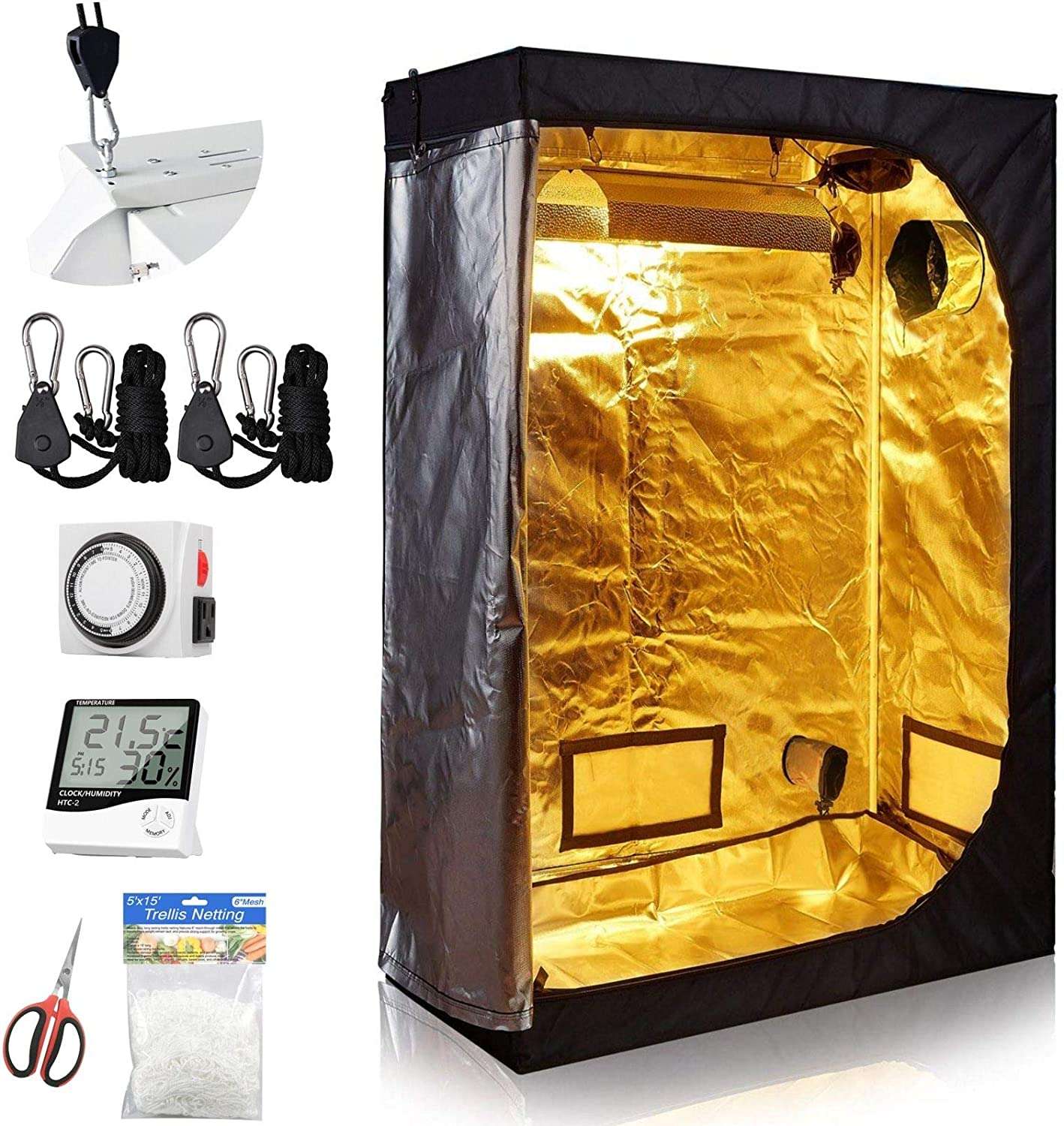 CDMALL ALPHAPAR Grow Tent Room Complete Kit is an amazing Tent Room that comprises –
High Reflective Grow Tent
Thermometer Hygrometer
5×15-inch Plant Trellis Netting
60mm Bonsai Shear
24 Hours Timer
The kit is perfect for those who want to get the most out of their growing space and have everything they need in one place. The room is made of high-quality reflective materials with good light transmission and heat radiation. The plant trellis netting is made of high-quality material, which is durable and easy to use.
The 60mm bonsai shear is made of high-quality material, which is durable and easy. Grow tents are made from reflective material, which can help you save up to 50% of your electricity bill. The plant trellis netting can help you grow plants up to 5x faster. The thermometer and hygrometer are essential for monitoring your plants.
If you are looking for an amazing tent room with a high-quality grow Tent that includes a grow tent, stakes, ventilation system, and LED light. So, CDMALL ALPHAPAR Grow Tent Room Complete Kit is perfect for you!
Pros –
Easily Portable as it can be hung on the wall.
Convenient to grow plants anywhere.
It reflects light and makes it more effective.
Durable and easy to use.
Sturdiness
Cons –
The height of the Tent is not suitable for all.
5. Ohuhu 48″ x 24″ x 60″ Mylar Hydroponic Grow Tent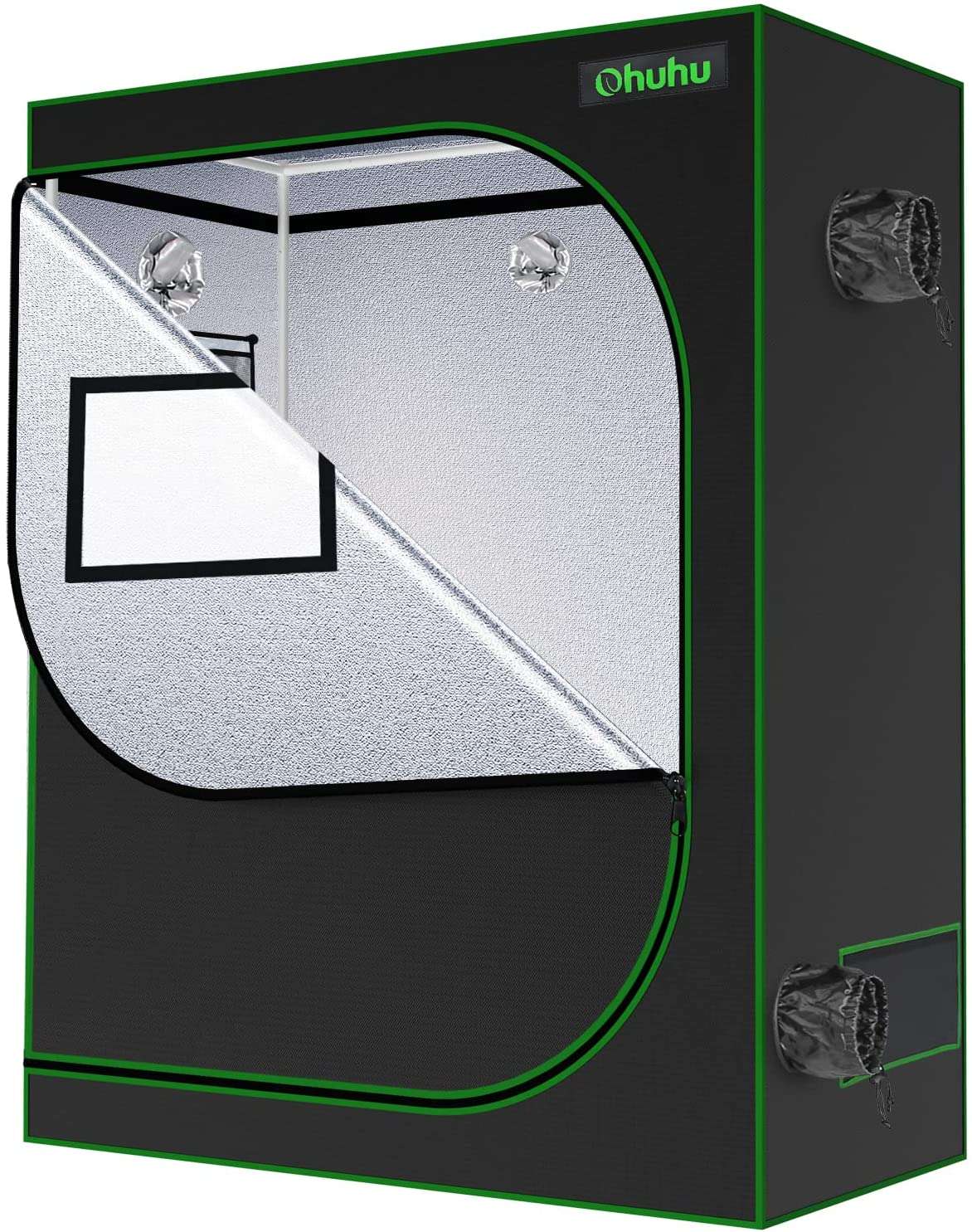 The Ohuhu 48″ x 24″ x 60″ Mylar Hydroponic Grow Tent with Toolbag, floor tray and Observation Window is perfect for indoor plant growing. It comprises –
Highly Reflective
Proper Ventilation
Extra-Thick Canvas
Great Stability
The durable 600D Oxford cover protects your plants from the elements, and the observation window provides a view of your plants. The floor tray allows you to move your plants around easily, and the tool bag has a section for tools and a section for a water reservoir. The hot, moist air created by the plants is drained with proper ventilation, preventing mold and fungus growth.
The Ohuhu 48″ x 24″ x 60″ grow tents are a great way to start growing your plants. Its extra-thick canvas is known for its rock-solid stability and extra-thick fabric, making it perfect for all climates. Plus, they are extremely reflective, ensuring that your plants get the light they need to thrive.
If you are looking for a model that offers excellent ventilation and is easy to assemble, you should consider investing in a grow tent made from canvas. The Ohuhu 48 "x 24″ x 60" Mylar Hydroponic Grow Tent is the perfect choice for you.
Pros –
Easily Assembled
Stable
Extra-thick fabric
Sturdiness
Durable in holding heat and humidity
Water reservoir section
Cons –
Less sturdy
Thick fabric makes it heavy and reduces its portability.
6. TopoGrow LED Grow Tent, Complete Kit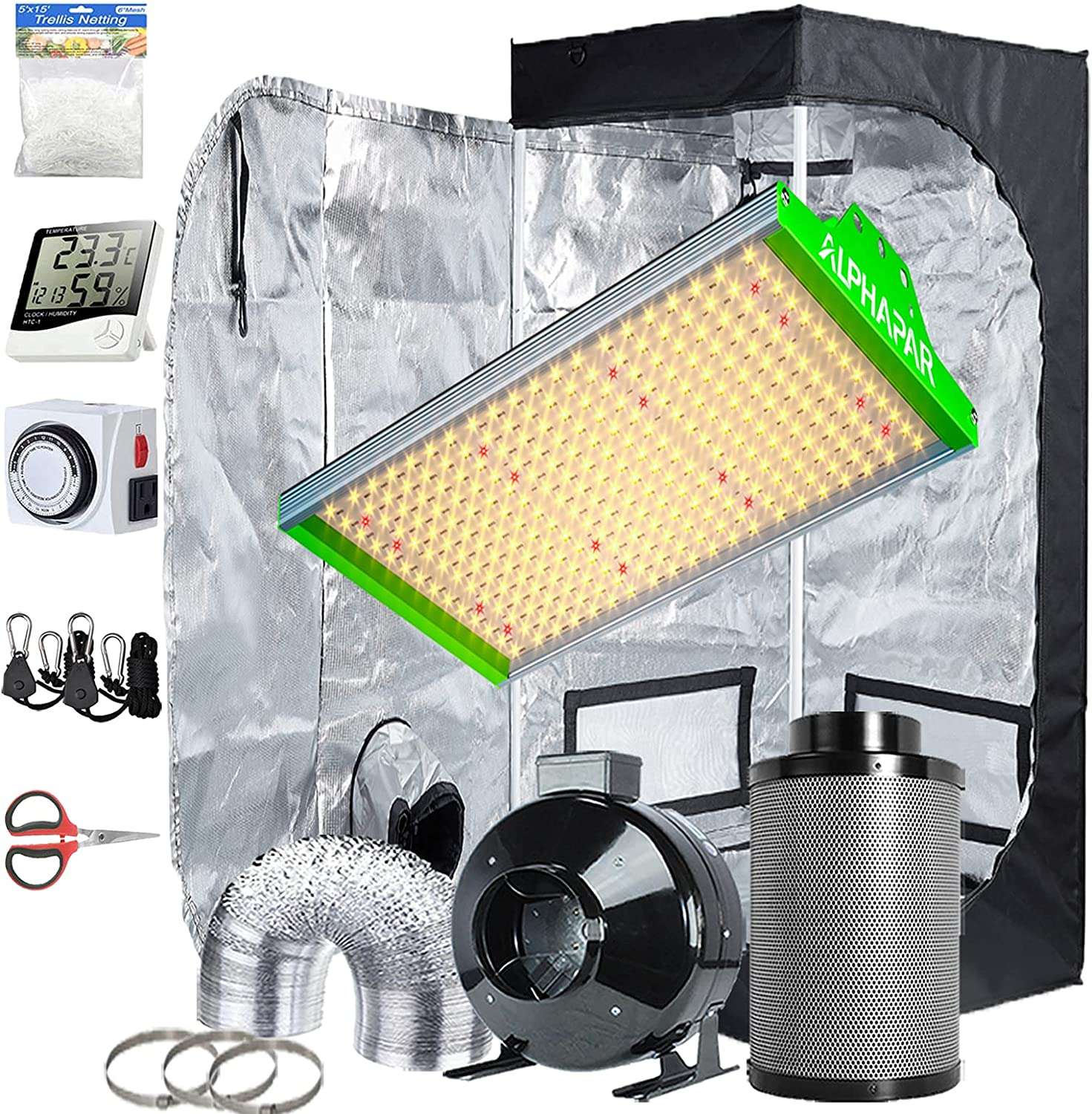 TopoGrow's indoor marijuana grow tent kits are highly recommended for several reasons. This reflecting waterproof diamond mylar tent comes with a 300-watt LED grow light and two cooling fans, ensuring a lifetime of happy growing.
Because of its durable and well-built design, the Topogrow grow Tent is one of the best weed-growing kits. The TopoGrow is composed of thick metal rods that reflect light and is built with one of the strongest construction systems you'll find in the business today. In addition, this Tent will likely do its job well, thanks to sturdy plastic reinforced corners.
The Topogrow's full spectrum design makes it simple to grow healthy and vigorous marijuana plants at all phases of their life cycle.
The Topogrow tent has an oscillating fan, ducting, and a carbon air filter to ensure the air quality is as good as possible. The fan and carbon filter layer does an excellent job of keeping all undesirable things at bay.
Pros
It has a powerful ventilation system.
Unbeatable 300-watt grow light with two cooling fans.
Discreet packaging and setup.
Cons
The viewing window might be tall for some people.
7. Mars Hydro Grow Tent Kit w/ 600W LED Grow Light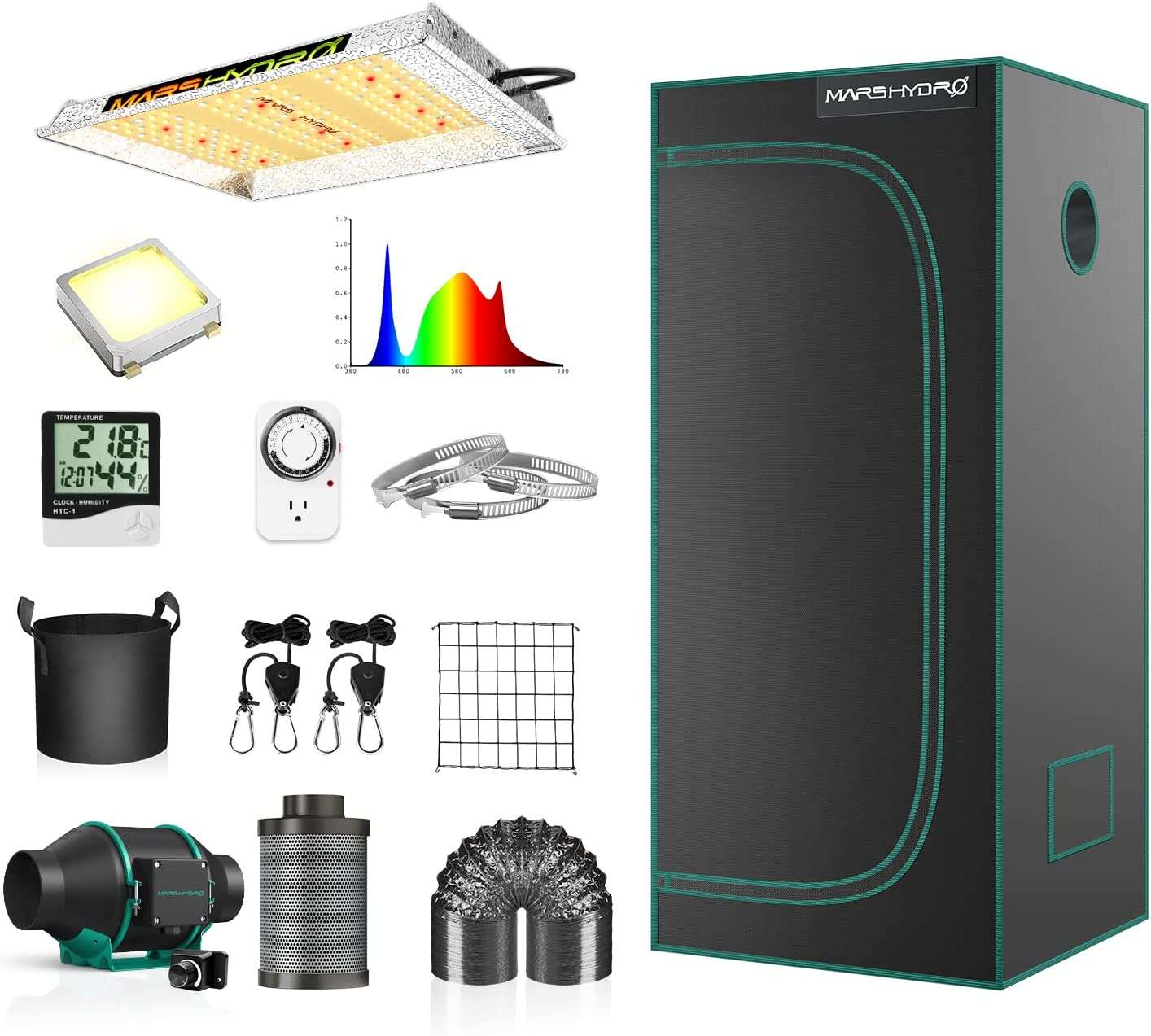 This grow tent kit is perfect for any small garden and room. Plus, it features an ultra-powerful 600W LED. It is ranked as the best small-sized kit. The kit includes:
Accessories
Ventilation System
2′ by 2′ Grow Tent
600 W LED Grow Light System
The 2'x2′ grow Tent is not only ideal for most small spaces, but the 600W LED grow light system can support multiple small to medium-sized cannabis plants. The ventilation system also keeps the plants and your nosy Neighbours happy.
Pros
The 600W LED grow light system complements the overall space of the grow Tent
The ventilation system is quiet and efficient at maintaining an ideal climate
The accessories included are useful for both beginners and professionals.
Cons
The power controller for the fan only works on the highest setting
The Tent's height may be an issue for those with low ceilings.
8. BloomGrow Marijuana Grow Kit
BloomGrow's Marijuana Grow Kit is a highly recommended complete package and one of the best in the business for several reasons. This kit, designed specifically for new growers, includes everything you need, from a sturdy tent to every other essential for growing weed from the top shelves.
The BloomGrow Marijuana grow tent measures 48 inches by 48 inches by 80 inches, providing ample space for optimal growing. This Tent is reinforced on the outside with a light-proof Oxford cloth for added and increased protection.
The BloomGrow Marijuana Grow Kit includes a 300-watt full-spectrum grow light. With this light, you can easily provide the ideal growing environment for plants.
Pros
Excellent carbon filters for ventilation.
Light height is adjustable
Ideal for small-sized spaces.
Cons
It is expensive compared to other grow tents.
9. MARS HYDRO TSW 2000 Complete Grow Kit
Mars Hydro, a leading brand in the marijuana cultivation industry, is committed to creating cannabis-related products that are easy to use. The Mars Hydro indoor grow tent kits include a high-quality grow tent, and a powerful set of LED grow lights. You won't have to waste time looking for the proper fittings because this sturdy grow Tent comes with a light perfectly suited to the size of the Tent itself.
The Mars Hydro Tent is generously sized at 44 square feet, allowing for greater plant growth. The hydroponic grow Tent is extremely thick and made of powerful reflective Mylar canvas that helps to ensure optimal light at all stages. The canvas-covered aluminum frame of the Tent adds strength to the structure.
The Mars Hydro Complete Grow kit features full-spectrum LED lights rated at 300 watts. This implies that your plants can receive the best possible growth aid from the moment they are planted until they are harvested. Furthermore, these energy-efficient LED lights are expected to reduce your electricity expenditure significantly.
Pros
It is easy to install.
The structure is solid and protected by thick canvas.
The setup is tear-proof and waterproof.
Cons
There might be a tiny bit of leakage through the zipper.
10. CoolGrows Grow Tent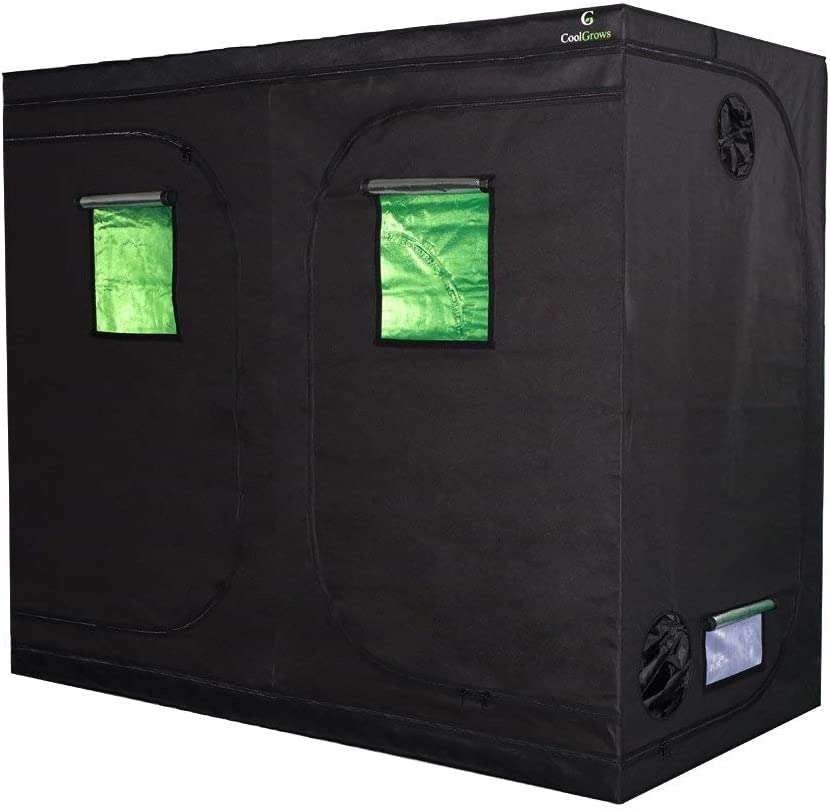 The CoolGrows Grow Tent is resistant to light. It's lined with 99 percent reflective Mylar. Metal bars and metal connectors make up the frame. The 600D material is a tear-resistant material. It also contains a viewing glass, so you can keep an eye on your plants without having to open the Tent completely. The detachable and water-resistant mylar spill tray makes this product simple to clean.
The Tent's zippers are easy to open and close. Over the zippers are privacy flaps. There are no light leaks. There are two vents in the room. Two nylon hanging straps with plastic buckles are also included. It is packed in a discreet package. There are no markings on the inside that indicate what's within. The warranty is unbreakable.
This Grow Tent has a window, which is ideal for those wishing to see their plants from inside. Unfortunately, the majority of grow tents on the market lack viewing glass. Instead, it has a glass, so you don't have to continually open up the zippers to check your babies inside!
Pros
No light leaks
Viewing Window
Zippers Zip easily.
Comes with a removable Mylar spill tray.
Cons
The fabric is not that good.
How to Pick the Right Grow Tent Kits
The best way to grow cannabis is by using a grow tent. A grow tent provides the exact temperature and environment necessary for the cannabis plant to grow. Grow Tents also help in increasing the crop yield by providing an appropriate atmosphere for the plants. However, as many types of grow, tents are available in the market, choosing an appropriate one is difficult.
Let's see what factors you should consider before choosing the right one:
Size:
The foremost important thing you should keep in mind when choosing a grow tent is the size. Grow tents are basically for indoor purposes. So, while choosing between purchasing a grow tent, do make sure to keep the size of your home, basement, or garage in consideration. Another thing that you should check is the height of the Grow Tent.
Some tents are wider, and some are taller. So, make sure to choose the one that will allow your plants to breathe and won't create any hindrance at your place.
Doors and Windows:
A grow tent requires at least one door so that one can get access to the inside it. The door size may vary, but most usually cover the Tent's whole height. In addition, some grow tents have zippers that seal the grow Tent properly and restrict even the slightest beam of light from entering the Tent.
Having a window is a personal choice. With the help of windows, one can peak inside the Tent and let the heat out. But make sure to cover it so light does not leak into the Tent.
Ventilation, Exhaust, and Cord Ports:
Grow Tents require ventilation to ensure enough carbon dioxide to support proper temperature. It also provides proper temperature and humidity for the plants. Some grow tents come with an exhaust fan to remove stale air and put in the fresh air.
Still, the requirement for a separate exhaust fan is essential. Some grow tents come with dual exhaust ports and cord ports so one can have enough points for lights and fans.
The frame of the Grow Tent:
The Grow Tent's frame could be made of metal or plastic. When it comes to plastic, they are lighter in weight and also supports the growing Tent's weight. Metal frames tend to hold more weight in comparison to plastic ones.
Leaving the Tent's material apart, the framing material is one aspect you should keep in mind while deciding which grow Tent to choose. The material from which the Tent's frame is made affects the weight capacity while handling the light or plants. So, make sure to have a grow tent that can hold up to around 100 to 175 pounds.
Assembly:
Not every grow Tent is similar in setup. There are some which require specialized tools for setting up. At the same time, others require no such tool. Every grow Tent comes with a manual so setting them up is not a complex task.
FAQ: Cannabis Cultivation
1. What size grow Tent is for beginners?
The best grow tent size for beginners is 80 X 80 X 160 cm (W X D X H). This size is ideal for growing two mature plants around 5ft tall.
2. Is Grow Tent worth it?
For indoor plant growers, grow Tent is essential equipment for growing plants. It lets you have fresh produce year-round. In addition, it makes sure that the environment inside it is appropriate for the plants to grow.
3. How big of a grow tent do I need for two plants?
A grow tent of 80 X 80 X 160 (W X D X H) is ideal for two plants. It has enough space to handle two plants around 5ft tall.
4. How many plants grow in a 4X4 tent?
Usually, the best that a 4 X 4 tent can provide you with is four to six plants in a tent.
5. Do grow tents contain smell?
No, the grow tents cannot contain the smell. The materials with which the grow Tent is made cannot block the odor; hence you will also find a certain smell inside the Tent.
6. How many plants are in a 48x24x60 grow Tent?
One can easily fit at least three full-sized and eight small plants in a 48 X 24 X 60 grow tent.
7. How Much Space Do I Need to Grow Marijuana at Home?
Four-square feet grow Tent is enough for growing a three-gallon pot at home. It easily fits into a room and won't create any hindrance.
Final Note
So, these were the best cannabis grow tent kit reviews to help you find the right one. These tents provide the appropriate amount of temperature for the cannabis plant. All these tents come in varied sizes and shapes so you can choose them according to the size of your house.