Best Bong Cleaners for Glass, Metal, Pyrex, and Others
Bongs feel the best the first time you use them, but as time passes, grime and other residues build up, worsening your smoking experience. DIY methods to clean bongs may not always be the best way, especially if there are tough spots and bad odors. In that case, you will need an effective bong cleaner. Here are the best cleaners for bongs available this year.
Best Bongs Cleaners in 2023
GRAND MASTER SMOKE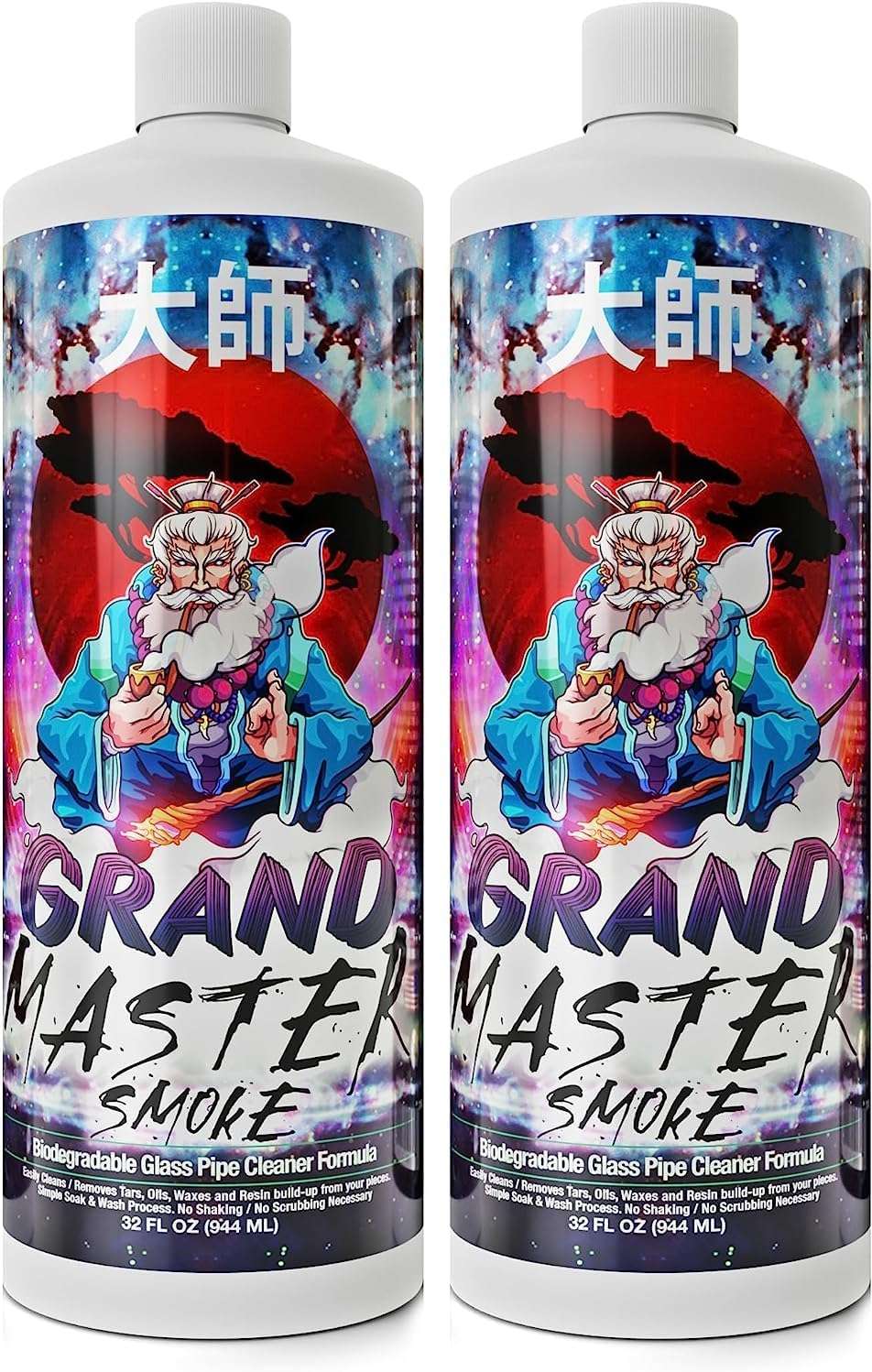 If your bong hasn't been cleaned for a long time to the point where regular cleaning solutions are not working anymore, the Grand Master Smoke's unscented cleaner could be the key. It's very easy to use – just fill your bong with the liquid, leave it for a few hours, and then rinse it out. However, by far, the best feature of this cleaner is how long you can use it, and some even reuse the liquid for years.
This bong cleaner barely had any drawbacks – and the few that are present are minor. For example, if you don't thoroughly rinse the bottle after applying the liquid, some residues could affect the taste. The good thing is the cleaner is not only unscented, but it removes bad odor, which will lead to you enjoying your bong sessions without any weird taste.
Blue Beetle Brushes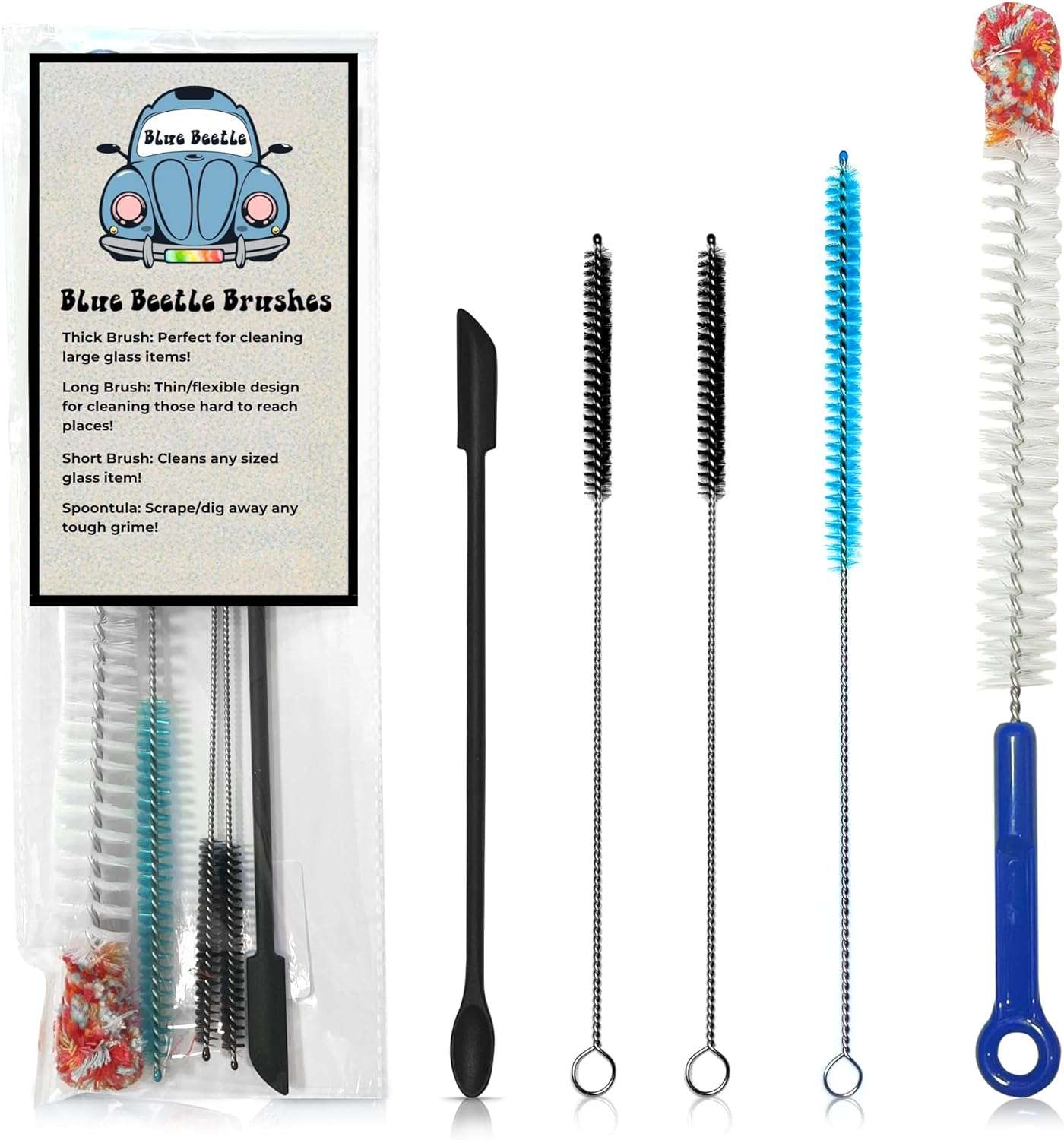 If you're one of those who cannot convince themselves that their bongs are clean without scrubbing and brushing, this bong cleaning kit should be the right alternative to a cleaning solution. As it comes with a set of brushes of different sizes, they work well with pretty much any type of bong, especially the small brushes are excellent for getting different parts of the bong clean.
The flexibility of the brushes also works great going into tight spaces, whether you have a straight tube or water pipe bowls. On top of that, the bristles of the brushes are tough, which is exactly what you want to remove tough grime. Our only complaint is the largest brush, which doesn't seem like a very useful option in the kit; even the spatula is much more effective than the big brush.
Formula 420 Cleaner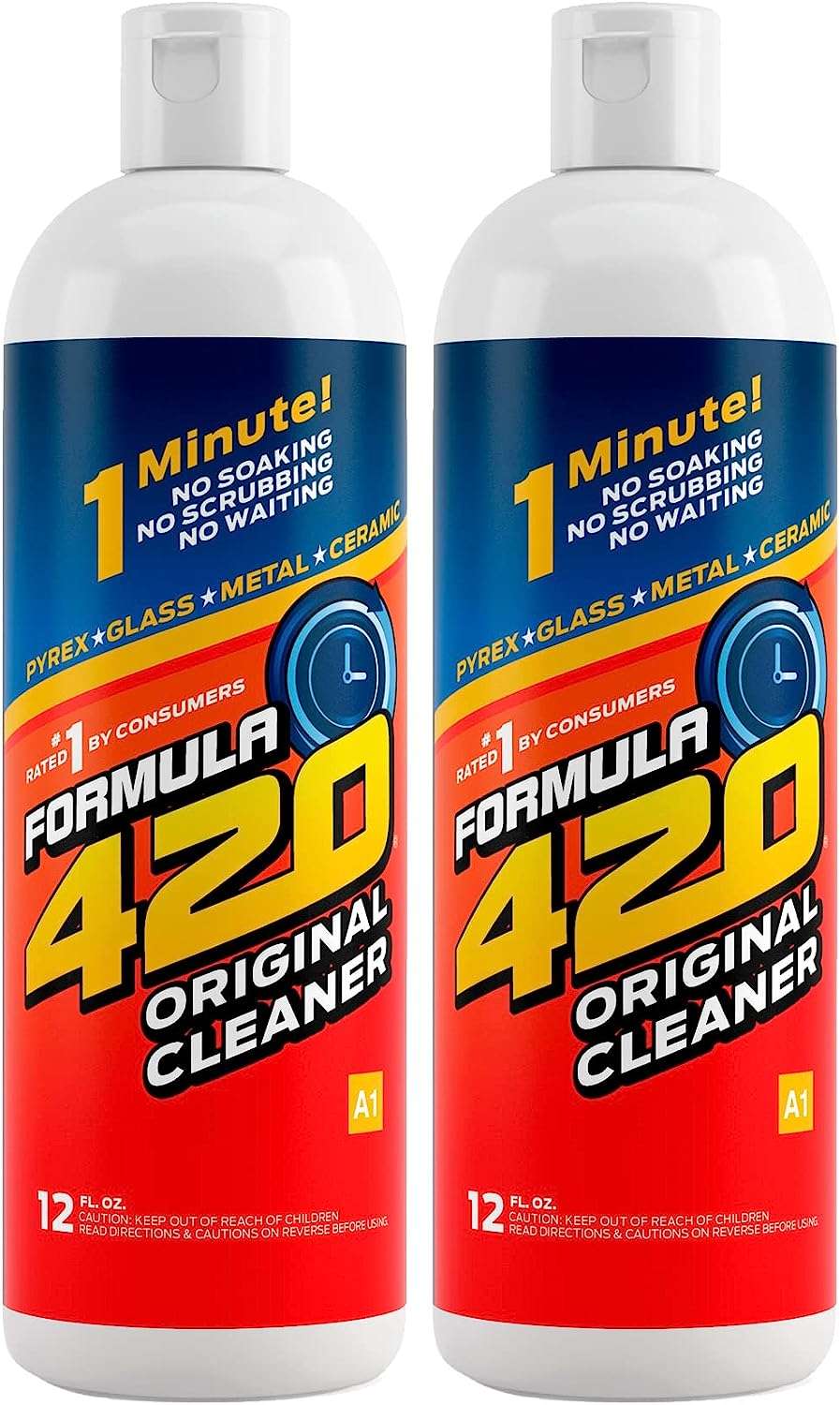 Unlike the Grand Master Smoke, you need to shake your bong when using the Formula 420 cleaner for several minutes to properly clean it. This is the only drawback of this bong cleaner, but putting aside that fact, it's an excellent option for getting rid of tough gunk. Along with glass pieces, you can also clean products made of Pyrex, metal, and ceramic. On top of that, this solution is biodegradable and non-toxic.
Again, compared to Grand Master Smoke, this cleaner has some advantages and drawbacks. You have to use some effort to shake the bong after putting the solution in to have it properly cleaned, which is not the case with the first product we mentioned. However, with this cleaner, you do not have to wait for multiple hours for your bong to feel like new again.
SNOW TREE – BoroBuddy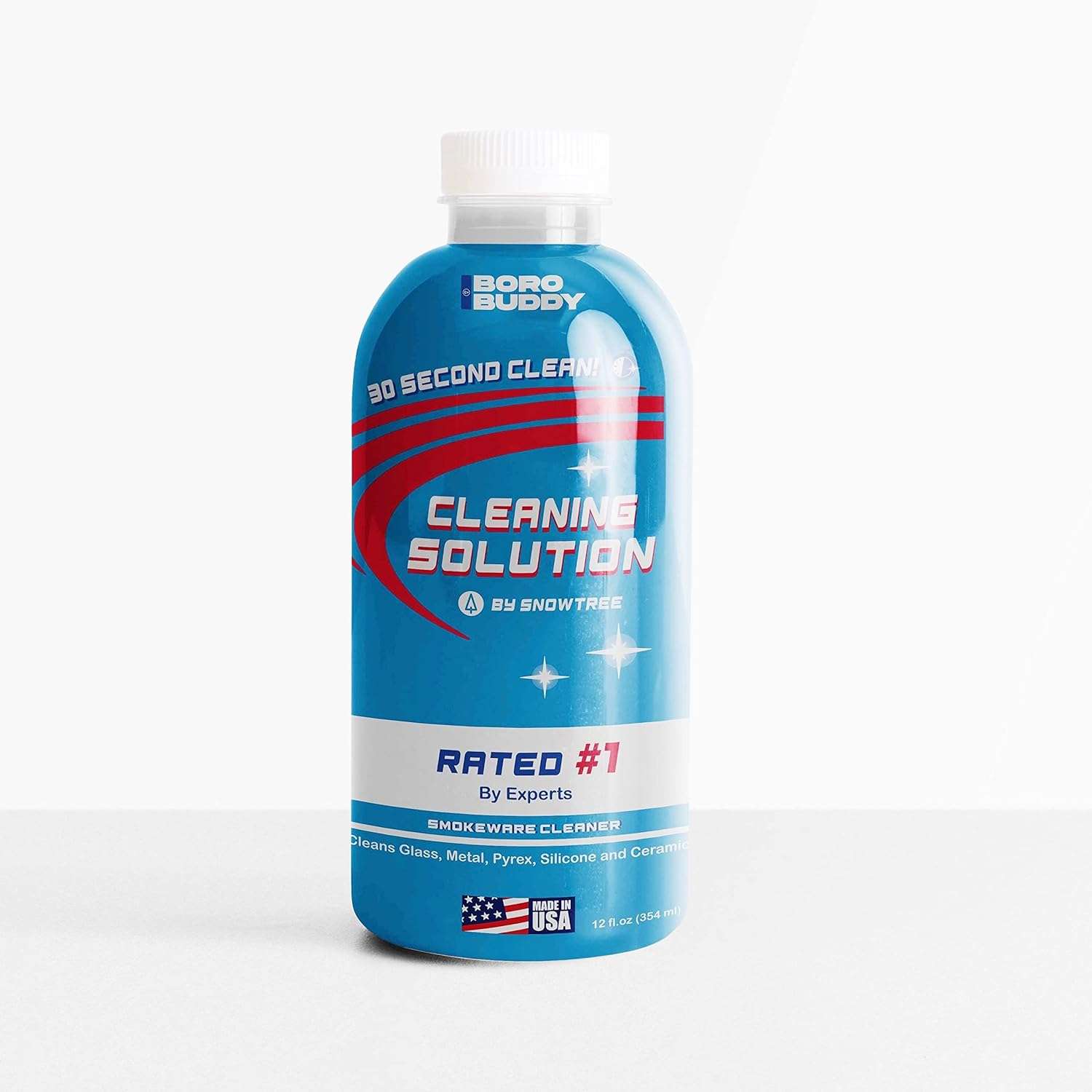 Oftentimes, brushes can't reach the very bottom parts of the bong, and cleaning solutions also fail to remove burnt-on resins that are pretty common inside bongs. That's where the BoroBuddy from Snowtree works well, as the magnetic cleaner helps you control the entire cleaning process efficiently while removing bad odors. The kit uses anti-resin pads that do not scratch bong glasses.
Another great aspect of this kit is how quickly it can clean bongs, taking only less than a minute to remove grime from the inside of bongs. Moreover, you do not have to buy expensive cleaning solutions with this kit, and seeing how it lasts for years, it should be the most cost-efficient option we have on this list. Overall, the strength of this product is efficiency and the ability to clean the lower end of bongs. As far as weaknesses go, we found barely anything, just the slight complication of setting the kit up for a cleaning session.
KLEAR Kryptonite
"Coat, relax, and rinse" – this is the mantra of the KLEAR Kryptonite cleaner, as it cleans bongs with minimal effort. It is a solution made with a clay-based formula, which is excellent compared to harsh chemicals found inside other cleaning products for glass bongs. To use this, you need to coat the bong with the solution, wait for around 20 minutes, then rinse.
This solution is much better than other options, where you need to shake the bong for a long time or leave the solution overnight. The only issue is that the solution may not be enough for large bongs, and you may need more than one of them to have a proper cleaning.
Types of Cleaning Agents Commonly Used on Bongs
Several kinds of cleaning agents can be used for the tar, resin, and other buildup inside bongs. Each has its advantages and limitations. Here are the most common ones –
Alcohol and Salt
An alcohol and salt solution is the most popular DIY approach to cleaning bongs, where coarse salt and rubbing alcohol (isopropyl alcohol) are used. The alcohol breaks down residue while the salt acts as an abrasive to clean tougher messes.
Vinegar
Vinegar is also another popular DIY method, as the acetic acid inside the component helps dissolve grime and resin. You can use a vinegar-water mixture and keep it inside your bong for a few hours to get a clear result.
Hydrogen Peroxide
Although not the safest option for a bong cleaner, hydrogen peroxide is pretty standard among bong users as a cleaning solution, as it helps break down grime and resin and kill germs. Similar to vinegar, you can use a water-diluted mixture of this mild bleach and let the bong soak for a while to get the best results.
Buying Guide
When it comes to bong cleaners, some prefer cleaning solutions that take hours to clean but don't require shaking, while others may opt for quicker alternatives. Choosing the right cleaning product for your bong depends on your preferred cleaner. Here are some considerations –
Cleaning Method
Some cleaners use a soak-and-rinse formula, leaving the solution inside the bong for a few hours or overnight, then rinse it. In contrast, other solutions require shaking or scrubbing to work, which may not be ideal for some. For example, clay-based cleaners like KLEAR Kryptonite's "Coat, Relax and Rinse" method is much more gentle to bongs as you don't have to scrub.
Effectiveness
If you opt for brushes to clean your bong, consider their effectiveness. For example, a lot of bong-cleaning brushes struggle to reach the bottom, leaving you with a half-dirty bong. On the other hand, products like the BoroBuddy, which uses an innovative magnetic approach, are more effective in cleaning the bong all the way through.
Material Compatibility
Not all cleaning products can work on every type of bong. While most use glass bongs, there are others made of ceramic, metal, etc., and you need to check whether the cleaning solution you're going for can work on the type of bong you have.
Residue-Free
One of the issues with low-quality bong cleaners is the residue they leave on on the bong. Not only does this issue leave the bong dirty, but it also affects the taste while using the bong, which can also be very unhealthy. Therefore, look for options that leave zero residue after usage.
Steps for Cleaning a Bong
The cleaning process may differ depending on the type of bong cleaner you have. Here are the steps for cleaning bongs with different types of solutions, and you should use gloves for all of them –
Soak and Rinse Cleaners
Start by emptying the water from your bong
If the bong can be disassembled, then take apart the pieces
Use warm water to rinse the initial debris
Check the instructions for the cleaning solution and prepare it for use
Soak the bong in the solution, preferably in a big container or sink
Wait for some time (depending on the package instructions), then rinse the bong
Dry your bong, then rinse it once again to get rid of any residue
For shake and rinse cleaners, instead of soaking, shake or scrub the bong after using the solution and follow the rest of the steps.
Advantages of Using Cleaning Solutions
While DIY methods like rubbing alcohol and salt work pretty well, using proper cleaning solutions gives way better output. Here are some crucial advantages of using bong cleaners –
Easy and Effective Cleaning
Cleaning solutions can easily break down stubborn resin, grime, and tar, which many DIY methods cannot do. Moreover, you won't need to put as much effort into cleaning when you use products like Grand Master Smoke.
Removal of Odors
Bad odors can ruin your smoking experience, and DIY cleaners are not always great at removing those smelly particles from the bong. Cleaning solutions can come with unique flavors or remove odors, elevating your smoking session.
Improving Longevity
A proper cleaning solution can make your bong feel brand new, and regular cleaning sessions improve the longevity of your favorite bongs. Therefore, you can add several years to your bong's lifetime compared to when you use DIY methods.
Conclusion
Before you make your purchase, remember that not every cleaning solution is preferred by all. Pick the one that works best for you, whether it's a liquid cleaner or a brush kit. Lastly, it's a